Nelvin Electrical is committed to providing professional and reliable Electrical Maintenance Services at very competitive
and affordable prices. We aim to respond to our valued customers requests in a prompt and efficient Manner.
We are available to travel Australia wide to offer service to customers.
Please take time to read our website and contact us to discuss our services and for more details.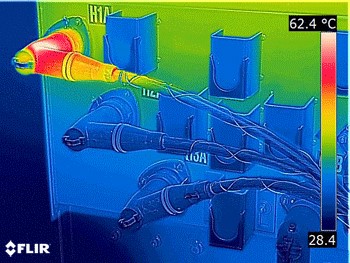 Thermography
Our regularly upgraded technology enables us to provide services to our Customers using up to date modern equipment and programs such as Infra-red FLIR cameras and top of the range electrical Test Equipment.
All our equipment are well maintained and regularly calibrated to ensure accurate results.
Power Factor Correction Inspections
Regular inspection and servicing of this equipment is essential as equipment failure can lead to fires within the units which could have devastating and costly results. Nelvin Electrical will carry out a thorough inspection of your power factor units, ensuring that the controller is set up correctly and that the capacitors are functioning correctly. We are also able to carry out a full service and repairs to the PFC system.
Distribution Board Compliance
We provide comprehensive inspections and testing to verify electrical installation compliance as required by Australian Standards. This includes visual inspection of switch board panel condition, wiring, doors & locks, distribution board legend, infrared thermal inspection. earth loop impedance testing and statutory RCD test.
Contact us now for a quote
Contact us now for a quote
Phone: 0450 120 602